How The print is Signed
Every Limited Edition Print purchased from Erik Brede Photography comes with a unique system to sign and tag the print. A signed certificate of authenticity with a unique CoA Number, a certificate hologram tamper seal with the same CoA#, and a signed label to be affixed to the back of the artwork is made for every limited edition sold by Erik Brede Photography.
How does it work?
When you order a genuine limited edition print from Erik Brede Photography, I will start making your CoA document. This document is signed and tagged with a unique CoA Number. The CoA document is digitalized and emailed to the customer after the order is received. After the artwork is delivered and accepted, a copy of the document together with the unique CoA Tag and a signed label is mailed to the customer. The signed label and the CoA Tag are mounted on the back of the artwork or frame, making this a genuine, signed, limited edition.
 The system is designed to protect the security and genuineness of your limited-edition artwork and reduce the risk of forgery.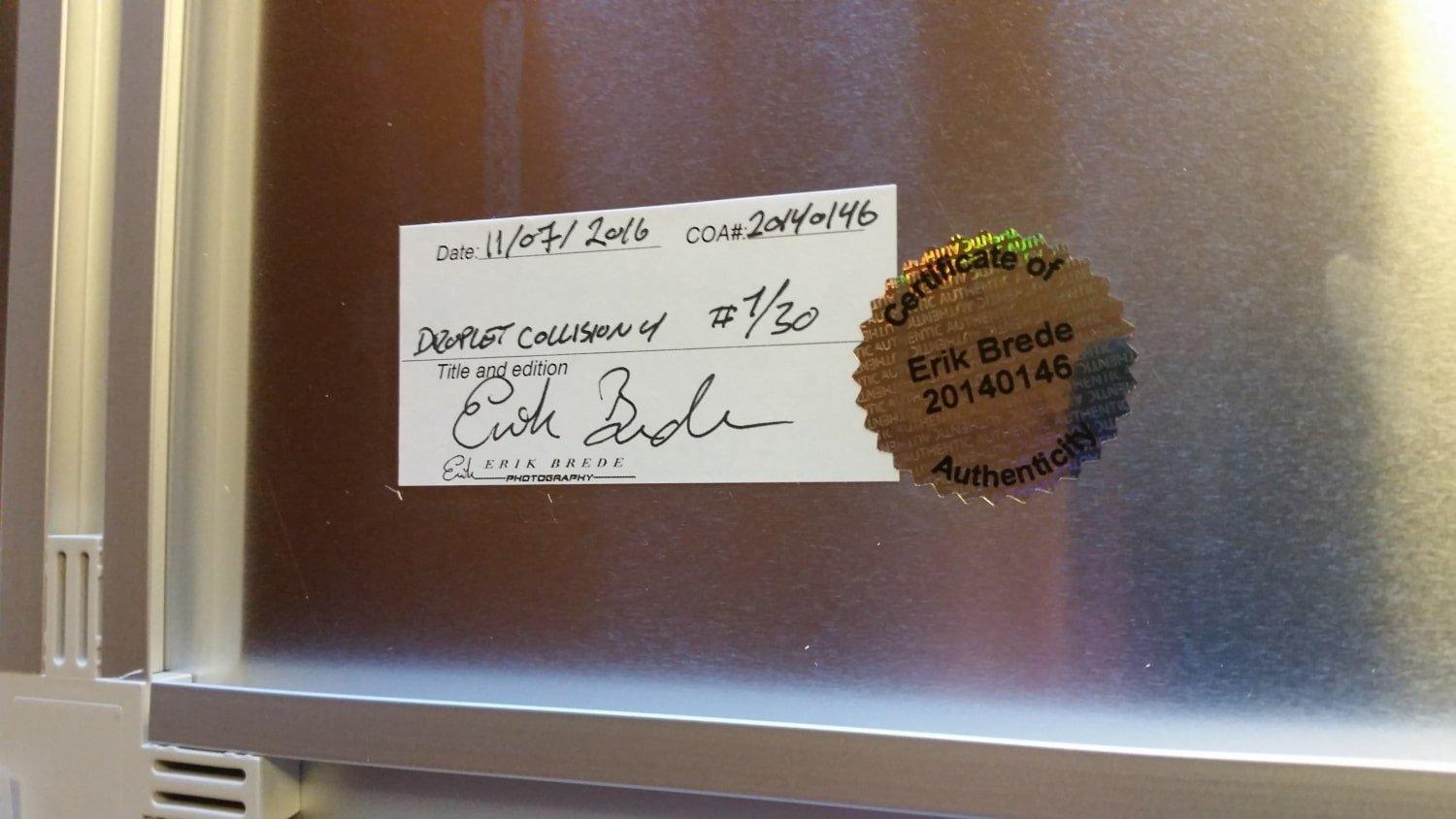 Apply the signed label and the security seal on the backside of your print. Make the seal overlap the label. Your print is now signed and genuine.
why do I sign my print this way?
In the old days, Signing a limited edition print on the front or back by hand was the only right thing to do. This type of signing is not secure and very easy to counterfeit. "Signing" prints using security seals are a common thing to do today, and I combine this with a signed label. I also make a limited edition of 3 types of material; Paper, Brushed Aluminium, and Chromogenic print under acrylic glass. A signature direct on the aluminum and the acrylic glass in front using a traditional pen doesn't look good and ruins the aesthetic impression. I also want all my prints to be signed the same way. Signing print with a hand-signed label and security seals is a perfect combination of security and flexibility regarding the location of the signature.