JAZZ UP YOUR WALLS AND BRING LIFE TO YOUR SPACE
New Unique One of a kind Print
90x113cm Direct Print using 7-Colour Fine Art UV-Ink on Aluminium Dibond with Black Floaten Gallery Frame made of solid Oak. 
PRINT DETAILS
Print Size: 90 x 113cm
Total Size: 97.6 x 120.6cm
One of a kind (1/1)
Aluminium Dibond
Black Solid Oak Frame
A picture printed on aluminium Dibond is a top-grade, robust print with a long lifespan. The aluminium backing comes integrated with an aluminium rail hanging system. Just unpack and hang it on your wall to bring some new life to your space. A gap between the artwork and the solid wood frame creates the impression of levitating.
A signed & numbered certificate of authenticity document, security seal and a signed label is shipped to the buyer as soon as the artwork is delivered and accepted to be affixed to the back of the print.
Be the only one to have this edition on the wall - High Price: $4000.00 incl frame and world wide shipping. Contact me for availability for specific artwork. Please, only serious inquiries.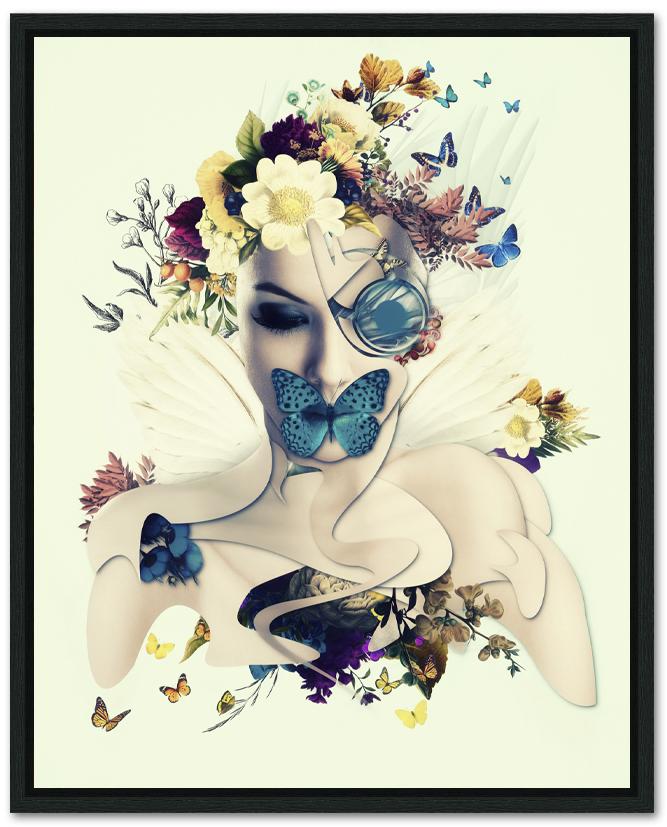 Fine Art Gallery Print
Solid Wood Frame With Passe-Partout
$1450.00 
incl. world wide Shipping
Image Size: 80x45cm
Total Size: 95.7x60.7cm
Hahnemühle FineArt Baryta 325
20mm Profile Gallery Frame
Black Oak, Solid Wood
Bright White Passe-Partouts
Certified Museum Grade
Integrated Hanging System
Signed CoA and Label
Limited Edition of 7 + 1AP
Browse collection
Artwork on display
Artwork on display at Hotels and Corporates around the world in January 2020
Prestenting
Abstract and Conceptual Fine Art
Portraits from the precipice
This art is part of the Artfinder's "Portraits from the precipice" Collection and is about to be displayed on billboards throughout the UK to tackle climate change with renewable energy company, Octopus Energy.
What a feeling
That feeling when you get such feedback from your customer:
I bought your Tree of Life, and loved it so much I got it tattooed on my arm. Just thought I'd let you know your art is now a permanent fixture on me, that gets lots of compliments. 🙂

Thanks for giving your beauty!!!
(Based on the Last 15 Reviews)
"You don't take a photograph, you make it."
– Ansel Adams
"The best thing about a picture is that it never changes, even when the people in it do."
– Andy Warhol